Horizontal Tools for Vertical BIM Development
ITC members create AEC industry solutions that encompass whole BIM disciplines and specific vertical markets such as steel framing, HVAC and civil engineering. Each member strongly competes in their area of expertise while collaborating and combining resources in the BIM Special Interest Group to create horizontal tools for their vertical BIM solutions.
Working with Architectural Objects
Autodesk® AutoCAD® Architecture (also known as Architectural Desktop) creates custom AEC objects for walls, doors, windows, roofs, slabs, etc. To work with these ADT objects, members leverage the BIM SIG code and APIs to:
Draw architectural elements — Access ready-to-use base BIM SIG code for creating walls, doors, windows and slabs as native ADT objects in drawings.
Convert ADT data — Use BIM SIG APIs for accessing ADT objects and converting them into a format that is consumable by discipline-specific member solutions.
Work with native ADT data — Use BIM SIG APIs for accessing, displaying, editing and creating ADT objects in member applications.
Real-world solutions by ITC members: Converting ADT model data and automatically designing light frame steel structures from ADT wall, door and window objects; accessing ADT data for takeoff and estimating; and getting ADT data for defining room boundaries in HVAC design.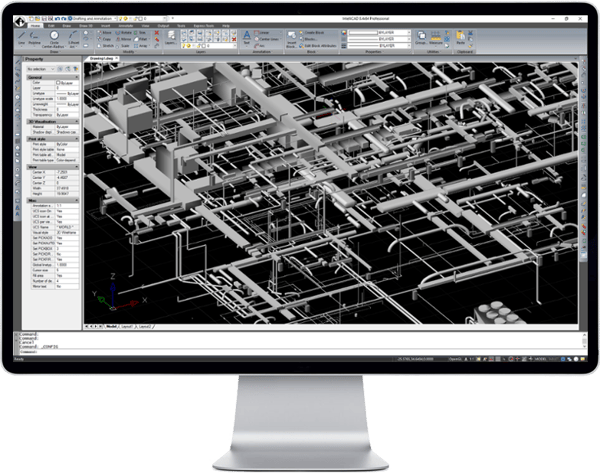 Accessing BIM Model Data
Many CAD users produce their models and construction documents in .dwg, but there are many modelers and BIM formats that .dwg users also require. The ITC BIM SIG provides features and tools to access BIM model data from Industry Foundation Classes (.ifc), and Autodesk Revit® (.rvt and .rfa) file formats:
View BIM files as external underlays — Attach .ifc, .rvt and .rfa files in IntelliCAD.
Control BIM underlay visibility — Control object visibility by level, object type and individual component using the BIM pane.
Snap to BIM underlays — Pull accurate distances from points in BIM underlays or trace or draw on top of BIM underlays in custom applications.
Explode BIM geometry into mesh primitives — Explode BIM underlay geometry into IntelliCAD primitives (no longer smart BIM objects) for editing and other uses.
Utilize APIs for further access — Utilize BIM APIs to access BIM underlays for more conversion, for example to compute takeoffs or estimates from AEC objects in BIM underlays.
Convert between BIM formats — Although not fully complete, the BIM SIG group is working on conversion between the formats ADT, .rvt and .ifc.