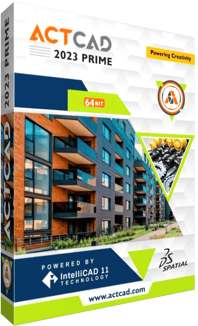 Version 1393 is now available for ActCAD 2023 Prime, Professional, Standard, and Map Drafter. The maintenance release includes several enhanced commands, improvements, and updated ODA libraries. To get the latest ActCAD 2023 maintenance release, ActCAD users can update using the ActCAD command CHECKFORUPDATES.
The latest ActCAD version is also available directly from the ActCAD website in the downloads area.
Available in 64- and 32-bit, ActCAD is a native .dwg and .dxf CAD software program used for 2D drafting and 3D modeling. ActCAD is based on the IntelliCAD engine. To learn more about how ActCAD and the ITC work together, see the case study. To learn more about IntelliCAD's .dwg technology, go here.