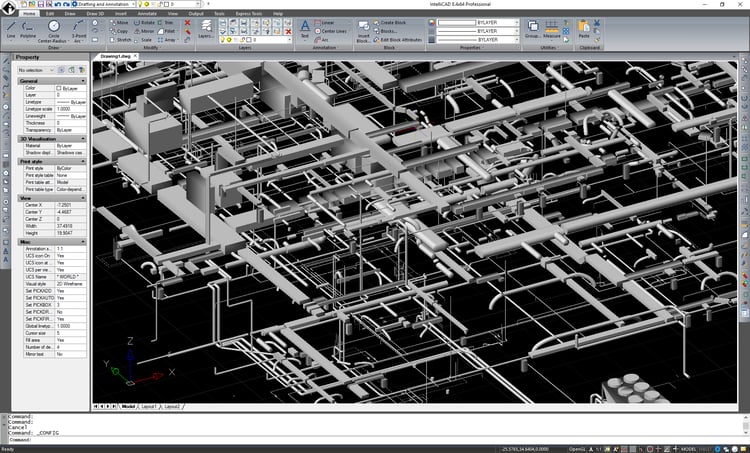 Portland, OR, USA, July 14, 2017 — The IntelliCAD Technology Consortium (ITC) announced the release of IntelliCAD 8.4.
IntelliCAD 8.4 is a major release that includes many new features and improvements.
IntelliCAD 8.4 boosts performance during screen redraw and while snapping in files with underlays. Running IntelliCAD on 4K monitors and switching between monitors with high resolutions is now supported.
New features can be found throughout IntelliCAD 8.4. Create entities with the new Multileader, Quick Leader, and Break Line commands. Add styles using the new Multileader Styles Manager and Multiline Style commands. Select entities using the new Select Similar and Get Selection commands. Explode entities with more precision according to entity type using the new Explode Text and Explode Attributes commands. Add more formatting to text using the in-place Multiline Editor and line spacing, lists, and paragraph justification. Add automatic numbering to text, multiline text, multileaders, or block attributes using the new Auto Number command. Get more information about your drawings using the new Drawing Properties command.
Another new feature is found in the updated Customize command which allows users to customize the user interface with less effort and share custom user interface settings easily between files and computers. You can drag-and-drop settings to customize menus; the ribbon, application button, and quick access toolbar (for IntelliCAD versions that support a ribbon); toolbars; keyboard shortcuts; and aliases.
For ITC members who are part of the BIM Special Interest Group, IntelliCAD 8.4 adds brand new support for IFC underlays. IFC (Industry Foundation Classes) format files include building and construction data, and once the .ifc underlay is attached, you can explode it, snap to it, and use a Categories pane to control visibility.
For versions of IntelliCAD that support markup for .dgn files in their native format (as part of the DGN Special Interest Group), several new features are available such as loading blocks from .cel files, Array command, Fillet command, and more.
David Lorenzo, ITC President, stated, "Although it's been less than four months since our last release, we wanted to quickly respond to member requests for various productivity features and performance improvements. I am also excited to see our IFC underlays shipping in this release as it provides a compelling platform for ITC members to create solutions based on IFC model data."
IntelliCAD 8.4 is supported on Microsoft® Windows® 10, Windows 8, Windows 7, and Windows Vista®, including 32-bit and 64-bit versions.
Interested IntelliCAD users can contact ITC members to receive details about availability of IntelliCAD software.
Companies interested in more details about IntelliCAD and membership in the ITC should contact the ITC directly. For more information about IntelliCAD and the ITC, including case studies, please visit http://www.intellicad.org/.
About the IntelliCAD Technology Consortium
The IntelliCAD Technology Consortium is an independent, non-profit organization funded and directed by its members specifically for the development of the IntelliCAD technology. The IntelliCAD Technology Consortium licenses the IntelliCAD technology to its commercial members, who in turn market and sell applications based on IntelliCAD to their end users. Commercial members have access to the IntelliCAD source code, documentation, developer support, and more. The ITC is also a founding member of the Open Design Alliance, thereby contributing to interoperability in the engineering industry.
For additional ITC news and information, visit the company web site (http://www.intellicad.org/) or call 1-503-293-7655.
IntelliCAD is registered with the U.S. Patent and Trademark Office by The IntelliCAD Technology Consortium.