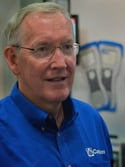 Carlson Software has been busy with big ideas and big work. Below is a recap of a letter from Bruce Carlson, President of Carlson Software, about what Carlson is doing with the IntelliCAD engine.
The beauty of IntelliCAD is that it is developed by a consortium of companies and internal IntelliCAD staff who can all contribute to its source code... Carlson Software is a leading "external" contributor to IntelliCAD. If we need the CAD to do something, we can write the commands directly. In effect, we have our own internal CAD platform.
Carlson Software delivers its products with a choice in CAD platform: use IntelliCAD for free with Carlson products or purchase Autodesk® AutoCAD®.
Anyone who can run AutoCAD can run IntelliCAD.
Carlson Software is also using the IntelliCAD platform in new ways starting this year:
Carlson iCAD

Dynamic CAD

Dual CAD (.dwg and .dgn files)
These new products are pushing the boundaries of business as usual. See the full letter >>
What can you do with IntelliCAD? Get details >>