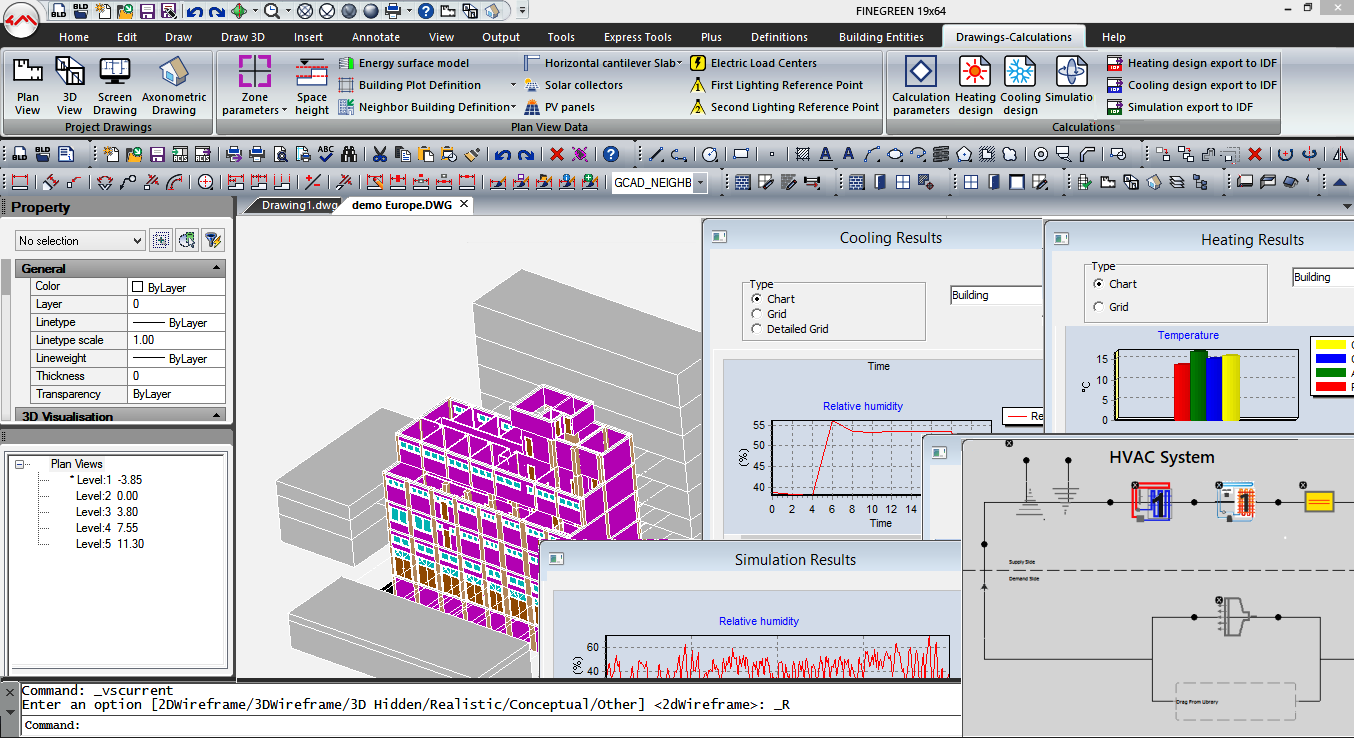 4M FineGREEN is energy simulation BIM software that can upgrade old and new buildings of any kind and scale according to LEED energy efficiency standards. FineGREEN uses the renowned EnergyPlus™ calculation engine sponsored by the U.S. Department of Energy (DOE).

Providing the most familiar 3D BIM interface to EnergyPlus on top of IntelliCAD, FineGREEN easily determines the best energy-efficient building design solutions from the initial architectural concept through HVAC design to the entire project completion. Being at the same time 100% .dwg and IFC compatible, the program ensures close collaboration with any other BIM application, such as Autodesk® Revit®, Graphisoft® Archicad®, Allplan®, 4M's own IDEA®, etc.
FineGREEN enables the designer to study effective alternative design scenarios in order to reach the optimal solutions for any type of new construction, as well as to identify the most interesting retrofit design alternatives. Simulation results are organized in detailed output tables, charts, and graphical representation forms, to easily make comparative evaluations of the alternatives.
FineGREEN contains rich libraries open to the user, including weather files and climate data, building components, construction assemblies and materials, HVAC and lighting equipment, templates with structure and system profiles, as well as activity & operating schedules based on the Ashrae 62.1 and 90.1 standards. The program performs Site Shading Analysis, HVAC Systems Modeling (using a wide range of predefined HVAC system templates that can be easily customized by the user or even defined from scratch), Daylighting Analysis for each zone, Solar & Wind Energy Modeling, and more. FineGREEN additionally includes a sophisticated building cost analysis, figuring out the cost of a building from the early design to project completion and operation. It also produces a report for LEED certification.
FineGREEN belongs to the 4M BIM Suite, which also includes IDEA Architecture and FINE-MEP. A very detailed understanding of the concept and functionality of FineGREEN is provided in the IntelliCAD 10.1 DevCast video at:
https://www.youtube.com/watch?v=OOykoOzIG8c
.
For more details about FineGREEN, you can also go to the 4M website at
www.4msa.com
. To learn about how 4M benefits from the IntelliCAD technology, see the updated success story
here
.