ITC continues celebrating 20 years of IntelliCAD at IntelliCAD Word 2018 in Prague. Here's what was happening right around the time IntelliCAD was first released on March 16, 1998: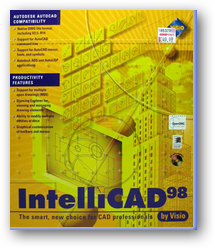 02/1998 — Visio Corp. forms a non-profit cooperative, OpenDWG Alliance (aka ODA, Open Design Alliance).

Visio provides a perpetual license for AUTODIRECT libraries/source to the ODA.

03/1998 — Visio Corp. releases IntelliCAD 98.

12/1998

—

Visio Corp. announces licensing IntelliCAD as a solutions development platform.

07/1999

—

Visio Corp. announces creation of a CAD platform cooperative, IntelliCAD Technology Consortium (ITC). The established bylaws were similar to those established for ODA.
09/1999

—

Microsoft Corp. acquires Visio.
That's how IntelliCAD came to the ITC.
Just like IntelliCAD, the ITC was established to provide alternative, open access to .dwg data and design. The ITC continues to promote open access to .dwg and provide its co-op members with the technology they need — including source code — to deliver products and custom CAD technologies in the marketplace based on IntelliCAD.