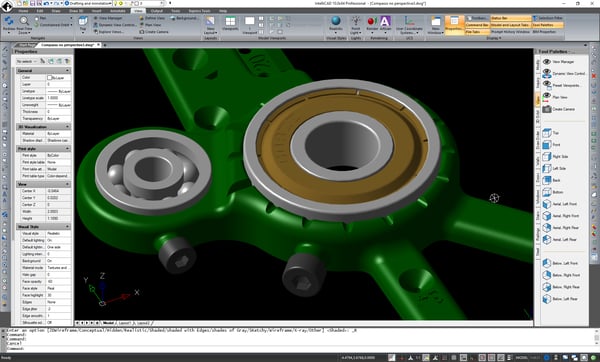 The IntelliCAD Technology Consortium (ITC) today announced the release of IntelliCAD 10.0a.
IntelliCAD 10.0a is a maintenance release for version 10.0 that was previously issued on July 30, 2020.
IntelliCAD maintenance releases concentrate on fixes, but IntelliCAD 10.0a includes minor new features: choose the color of print stamps, determine whether print stamps print upside down, and use the new Show Palettes and Hide Palettes commands. Also included for multiline text are superscript, subscript, and strikethrough character formatting; many new paragraph formatting options, and on-the-fly spell checking.
Other improvements and fixes are found in performance, editing and selecting entities, text, and blocks.
"The 10.0a maintenance release includes fixes in direct response to initial feedback from our summer 2020 release of IntelliCAD 10.0, which is packed with large and small features, all with big productivity improvements for IntelliCAD users," commented David Lorenzo, ITC President. "Our close, co-op style collaboration allows us to quickly fix issues that have a direct impact on ITC members and their end users."
IntelliCAD 10.0a is supported on Microsoft® Windows® 10, Windows 8, and Windows 7 64-bit versions. IntelliCAD Mobile Viewer versions are available for Windows desktop, Google® Android™, Apple® macOS® and iOS.
Interested IntelliCAD users can contact ITC members to receive details about availability of IntelliCAD software.
Companies interested in more details about IntelliCAD and membership in the ITC should contact the ITC directly. For more information about IntelliCAD and the ITC, including case studies, please visit http://www.intellicad.org/.
About the IntelliCAD Technology Consortium
The IntelliCAD Technology Consortium is an independent, non-profit organization funded and directed by its members specifically for the shared development of the IntelliCAD technology. The IntelliCAD Technology Consortium licenses the IntelliCAD technology to its commercial members, who in turn market and sell applications based on IntelliCAD to their end users. Commercial members have access to the IntelliCAD source code, documentation, developer support, and more. The ITC is also a founding member of the Open Design Alliance, thereby contributing to interoperability in the engineering industry.
For additional ITC news and information, visit the company web site (http://www.intellicad.org/) or call 1-503-293-7655.