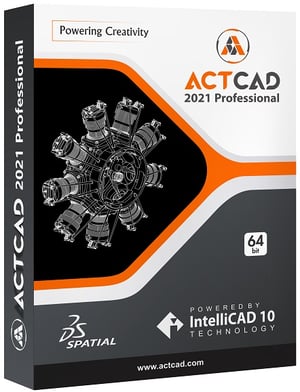 The latest version of ActCAD 2021 includes new features, enhanced commands, and fixes. Users will enjoy the new DIMSPACE, ALIGNSPACE, and TEXTALIGN commands, along with several new commands for working with attributes. Also included is a new PDF to DXF converter and the ability to view a network license usage log. Enhancements to existing functionality are found throughout, including revised NEWDRAWING and ATTEDIT commands.
To get the latest ActCAD 2021 maintenance release, ActCAD users can upgrade to the latest version 1001551 using the ActCAD command CHECKFORUPDATES. The new maintenance version is available for ActCAD 2021 BIM, Professional, and Standard versions.
The latest ActCAD version is also available directly from the ActCAD website in the downloads area.
Available in 64- and 32-bit, ActCAD is a native .dwg and .dxf CAD software program used for 2D drafting and 3D modeling. ActCAD is based on the IntelliCAD engine.