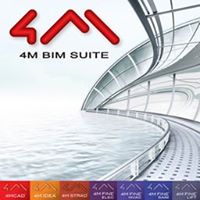 4M S.A., member of the IntelliCAD Technology Consortium since 2000, creates architectural, mechanical, structural, and electrical CAD and BIM applications that are built on top of the IntelliCAD engine. With access to APIs and source code, 4M integrates their own vertical solutions to deliver seamless products to their customers.
J

oining the ITC allowed us to develop and deliver market-specific vertical applications with powerful yet familiar CAD functionality combined with well-defined standards and specifications.

" – Babis Charalambopoulos, Partner and Co-Founder 4M
To learn more about how 4M benefits from ITC membership, go to https://www.intellicad.org/4m-case-study.
4M S.A.: www.4msa.com
IntelliCAD Technology Consortium: www.intellicad.org