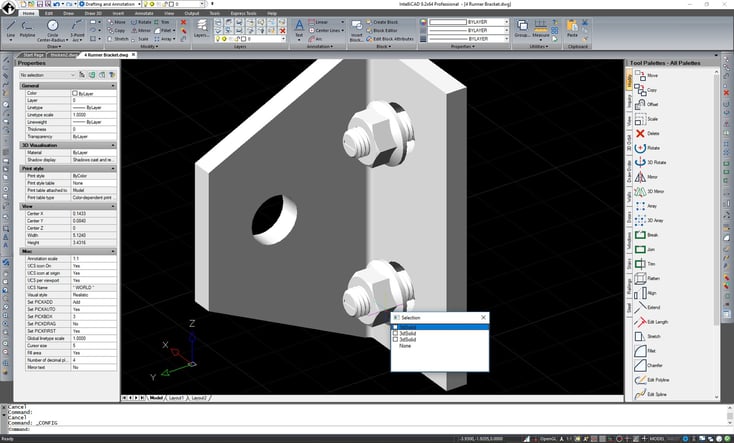 Portland, OR, USA — The IntelliCAD Technology Consortium (ITC) today announced the release of IntelliCAD 9.2.
IntelliCAD 9.2 is a major release that includes many new features and improvements including: import and export IGES and STEP format files, delete and combine duplicate or overlapping entities using the Overkill command, use right-to-left fonts, choose from additional list types for multiline text, undo or redo a selected range of actions, thicken surfaces and meshes to convert them to three-dimensional solids (for IntelliCAD versions that support solids), and publish a drawing to the newly supported .dwf/.dwfx published format. You can also set up automatic publishing to create .pdf, .dwf, or .dwfx files when you save or close a drawing.
Selection includes a collection of new features. The new Selection Filter pane, similar to the Properties pane, displays all entities in a drawing and allows you to filter and select entities by layer, color, entity type, and linetype. Polygons, rectangles, and break lines have additional grips and properties for smart editing, and selection cycling is available which makes it easier to select entities that overlap.
For versions of IntelliCAD that work with BIM files, add elevation and section lines to models; draw curtain walls; draw detailing elements for wood, studs, joists, and track; and convert two-dimensional entities to walls and slabs.
For versions of IntelliCAD that open, save, and edit .dgn files in their native format, the supported command set continues to grow with 3DORBIT, ATTDEF, BASE, BROWSER, DDVPOINT, DRAWORDER, ELLIPSE, IMAGE, and IMAGEATTACH.
Technical users will also appreciate the new .NET wrappers for architectural objects.
David Lorenzo, ITC President, stated, "This second major release for 2019 provides exciting new features for our members, and continues to keep our command backlog clear so we can focus on refactoring core components with our remaining time this year."
IntelliCAD 9.2 is supported on Microsoft® Windows® 10, Windows 8, Windows 7, and Windows Vista®, including 32-bit and 64-bit versions. IntelliCAD Mobile Viewer versions are available for Windows desktop, Google® Android™, Apple® macOS® and iOS.
Interested IntelliCAD users can contact ITC members to receive details about availability of IntelliCAD software.
Companies interested in more details about IntelliCAD and membership in the ITC should contact the ITC directly. For more information about IntelliCAD and the ITC, including case studies, please visit http://www.intellicad.org/.
About the IntelliCAD Technology Consortium
The IntelliCAD Technology Consortium is an independent, non-profit organization funded and directed by its members specifically for the development of the IntelliCAD technology. The IntelliCAD Technology Consortium licenses the IntelliCAD technology to its commercial members, who in turn market and sell applications based on IntelliCAD to their end users. Commercial members have access to the IntelliCAD source code, documentation, developer support, and more. The ITC is also a founding member of the Open Design Alliance, thereby contributing to interoperability in the engineering industry.
For additional ITC news and information, visit the company web site (http://www.intellicad.org/) or call 1-503-293-7655.