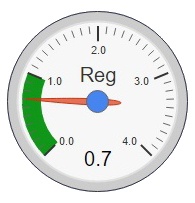 The ITC automated test system is one of the many ITC technologies that members can leverage and incorporate into their own development systems. The robust framework builds IntelliCAD multiple times a day and runs over 25 million verified tests daily on those installable builds. There are unit tests, regression tests, API tests, roundtrip tests, visual comparison tests, and performance tests. All data is fed automatically into Overall Health Index dials, like the one pictured here.
In a recent article, ActCAD highlighted how they incorporate these test and quality systems into their own processes. For more details from ActCAD, see http://actcad.com/actcad-intellicad-quality-systems.php.
For more details from ITC, see https://www.intellicad.org/cad-platform-automated-testing-framework.