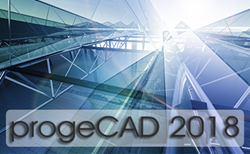 progeCAD 2018 Professional, now available, is a major release from ITC member ProgeSOFT SA.
progeCAD 2018 Professional is a 2D/3D DWG/DXF-native general-purpose CAD application based on the IntelliCAD engine and includes additional features such as PDF to DWG Converter, Block Libraries with over 22,000 blocks, Raster-to-Vector module, Google Earth integration, EasyArch plugin for architects, 3D PDF export, and much more.
For more release details and a video about new features, see the progeCAD news announcement.
For details about how ProgeSOFT delivers its solutions based on IntelliCAD, see the success story.