FineFIRE is the BIM standard for fire fighting design; it faces projects of any kind or scale in an easy, fast and reliable way according to all the latest standards. As shown in the IntelliCAD 10.1 DevCast videos, here are project examples implemented by FineFIRE:
Large industrial projects: The Dalli case study (home products)
Big storage projects: The Coca-Cola HBC case study
Factories and manufacturing: The Paper Factory case study
Hotels and resorts: The Thassos Grand Resort case study
FineFIRE considers all the parameters of the physical and functional characteristics of a sprinkler network to support smart network modeling, identification of clashes between other MEP installations, quick exploration of alternative viable options, extraction of a Bill of Materials, and overall easy collaboration and sharing of information between designers and constructors. More specifically, FineFIRE:
Combines a state-of-the-art BIM technology on top of IntelliCAD, allowing the user to design piping networks faster and easier.
Ensures full compatibility with Autodesk® Revit®, Graphisoft® Archicad®, Nemetschek® Vectorworks®, Google® SketchUp Pro®, or equivalent.
Allows you to work with any type of piping network (tree systems, gridded, looped, etc.).
Places sprinklers automatically, considering building hazards and the type of sprinklers.
Performs a detailed hydraulic simulation for the highest accuracy in network sizing, considering the equipment technical characteristics (i.e., pump curves/diagrams).
Generates the exact quantity of project materials along with their costs.
Provides a fully documented final printout with calculation reports and a set of drawings in 2D and 3D.
Supports all existing standards (NFPA13 American Standard, EN 12845, BS9251, AS2118, ASIB11, FM GLOBAL, CEA 4001, etc.).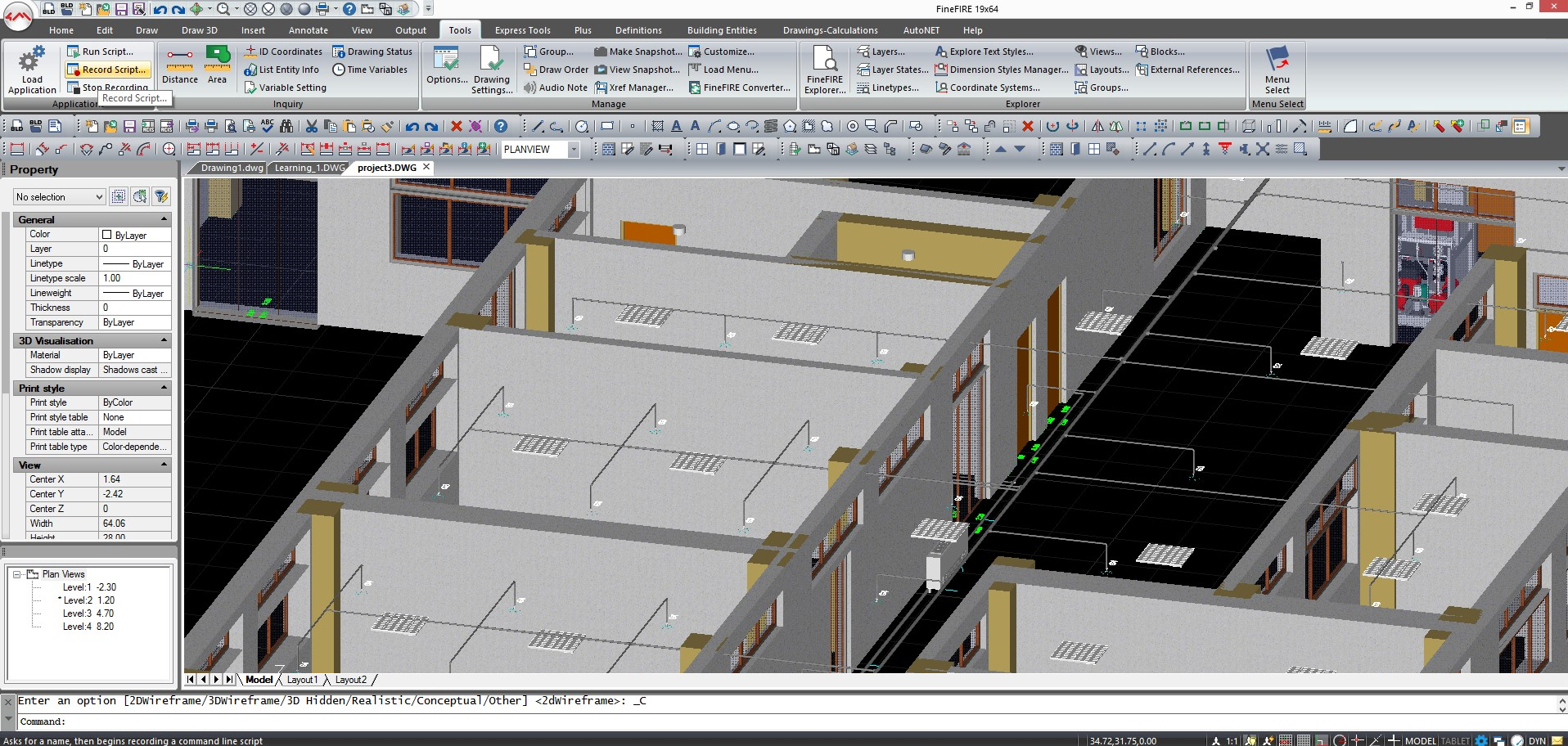 And all the above coexist synergistically within an integrated BIM environment where the user can work and interact directly on the 3D building model. Details of the concept and functionality of FineFIRE is provided in the IntelliCAD 10.1 DevCast video at this link:
https://www.youtube.com/watch?v=ctjlyJ03En4.