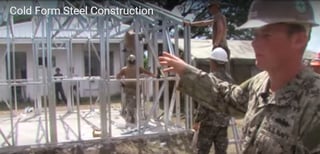 FRAMECAD Mobile Factory and its Light Gauge Steel construction was evaluated by the US Navy for disaster relief and humanitarian assistance. A reduction in construction time by two-thirds and a reduction in required workforce by one half were just some of the benefits initially reported.
FRAMECAD Ltd. is an ITC member developing the FRAMECAD system, which is a rapid steel framing design and build system based on IntelliCAD.
For more details and to watch the video, see http://blog.framecad.com/blog/the-us-navy-framecad-factory-transforming-humanitarian-assistance.