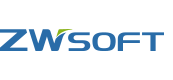 This year ZWSOFT celebrates 20 years of making CAD solutions for designers and engineers worldwide. ZWSOFT is a member of the ITC and their flagship product, ZWCAD, is based on the IntelliCAD engine.
In the words of Daniel Huang, ZWCAD Product Manager:
We have really made ZWCAD from good to great..."
Congrats to ZWSOFT as they celebrate 20 years!